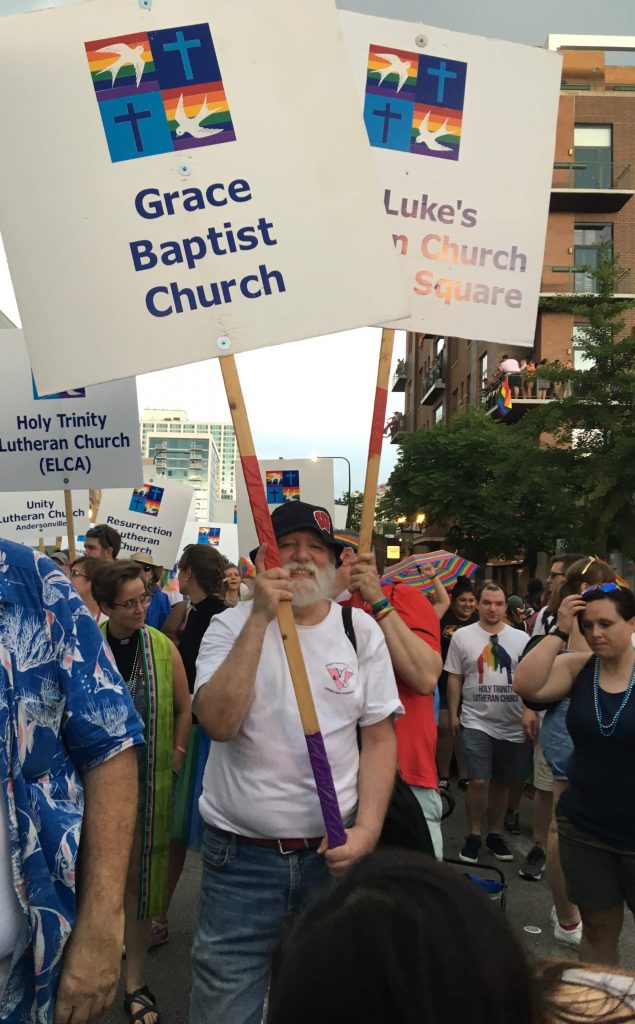 We invite you to join us in what God is doing at Grace Baptist Church!
At Grace, we are continually surprised by God. Whether it is laughing around the dinner table, sharing our pain and joy in prayer, singing at the top of our lungs, or serving a hot meal to homeless guests at The Crib, the Spirit shows up and teaches us something new.
How do you get involved? Our monthly gatherings are the place to start! Join us for lively, intimate worship and connect with other opportunities to grow and serve with Grace!
Financial support
Grace Baptist has always had support beyond its walls. Join other friends of Grace in helping us grow our ministry through internal events and outreach.
Financial gifts enable us to continue our monthly fellowship and worship gatherings, mission and outreach through the Night Ministry and other opportunities, support for the Chicago Coalition of Welcoming Churches and Association of Welcoming and Affirming Baptists, and more.
Through the years, people across the country have encouraged and assisted the inclusive ministry of Grace Baptist Church. We have provided inspiration and been a model to fellow churches. We've been a sanctuary for individuals – lay and clergy – who have crossed paths in this place and then been called elsewhere. We've been a growing witness to individuals seeking fellowship and support who will never be able to worship with us. In short, we are a local church with a growing sense of community.
---
If you'd like to support our ministry financially or become a Supporting Partner of Grace, you may send your gift to
Grace Baptist Church
1020 W. Bryn Mawr
Chicago, IL 60660
If you have questions about Grace's ministry, or if you would like more information about becoming a Partner, Associate Partner, or Supporting Partner, please call (847) 485-5855